Large Format
Product Options
Features
Convenient Stand

Displays Your POP Board

Next Day Available

Compact
Description
Recommendations
Marketing Tips
Description
Spider Feet Stakes are low profile stands that hold signs and displays, which show either one or both sides depending on where you place the display. They are constructed from steel with a black powder coat finish. They easily hold sign boards ranging in thickness from 3/16" to 1/4".
If you need printed material to display in your Spider Feet, please check out our large format POP Displays.
Standard Sizes
Any Size
Standard Sizes
Our standard sizes, listed below, are the most popular in the industry:
Spider Feet are 6 inches wide
Steel
Steel with a powder coat finish.
Black
Black powder coat.
Coating
Coating is unavailable with Spider Feet Stakes.
Explanation of Turnaround Time
Next Day
2-3 Days
Explanation of Turnaround Time
See a quick chart showing turnaround times
Turnaround times begin when the proof is approved. All times are based on standard business days Monday through Friday excluding federal holidays. For orders shipping to the blue zone, please use the Eastern time zone (New York). For orders shipping to the red zone, please use the Pacific time zone (California). Please see the below map:
Please note that turnaround time does not include shipping or mailing time. You may select from available production turnaround times and your preferred shipping time as you place your order.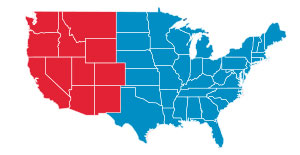 Our products are the same great quality for every turnaround time we offer.
Large Format
Please see quantities available in the pricing calculator.
To request a custom estimate, click "Estimates" at the top of the page.
We typically print more than the quantity ordered. Because printing is a manufacturing process, the total finished quantity may vary. We usually ship a few more than you order, but sometimes quantities can vary +/- 5%. Standard industry procedure is to consider this range shipment in full.
Spider Feet Stakes
No File Setup required for this product.